This past weekend I participated in the Local Author's and Small Press Fair at Anderson's County Library. I had to submit an application back in September and I was selected for a spot. The event was a nice experience in which I got to meet other writers and their work, and I was even able to chat with some author friends who provided me with valuable advice regarding school visits.
As usual, one of my favorite things about this experience is that I was able to share it with my husband and daughter once more. However, this time there was also a cute moment that really touched me and it was meeting a little girl (about 5 years old) who was visiting the library that day. The girl happened to be taking home Santiago's Dinosaurios among other books. One of my friends was passing by and saw the girl and her grandma checking out the book, so my friend told them that I was at the library at that time. So, afterwards, they came to see me and it was truly a very special moment.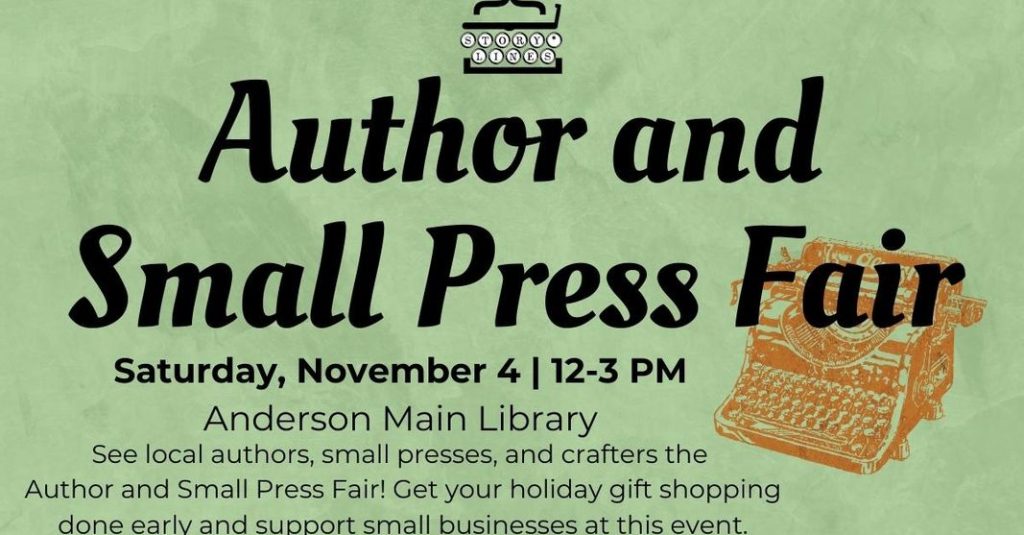 In this post, I want to share some elements to consider when preparing to participate in these kinds of events, according to my experience and what has worked for me. I hope you'll find this information useful too.
1.A wagon. Normally when I go to school visits or author events I carry several things: books, banners, table cloths, my crochet dinos, among other things. Bringing a wagon to carry all that stuff has been a game changer, since sometimes I also need to carry my computer and my purse. Having everything in one place has made it so much easier for me to handle it, and the great news is that the wagon is easy to put together and to put away. If you are able to, consider having some sort of assistance to help you carry all your things, especially if you'll be on your own.
2. Table cloth. Normally, in these events the hosts will provide you with a table and two chairs, but you'll need to bring your own table cloth. In my case, I have a black table cloth and then I printed a small one with some images from my book. I like how it dresses the table and highlights the book. What do you think?
3. Banner. This has been without a doubt one of the best investments I've made for my author events. It's so easy to carry and to put up, and in my opinion it provides an instant touch of professionalism to the event. I always bring it on my school visits or book signings. I really recommend you to check it out if it's possible for you to get one.
4. Books and pen/markers. Of course you can't forget about the books. Make sure to bring several so that you don't run out. Of course the number of books sold will depend on each event. I've had events in which I've sold 2 books and events in which I sold 25 or more. Also, keep in mind that in the book fair there are many other books participating that are your competition in sales. Don't forget to bring pen or markers for signing the books sold.
5. SWAG. I like giving bookmarks and stickers to the people that buy my books or to those who ask for my information. I personally use bookmarks instead of business cards, and I made sure to add my website along with information of the book (review, author, illustrator, cover and quote). You never know who will come to visit your stand, so be ready.
6. COLORING PAGES. I always bring coloring pages and dinosaur word search sheets with me on these type of events. It's something that kids enjoy and value, and that it's not expensive to give away even if their parents don't buy the book in that moment. These resources are also available for download in my website. Check them out here.
7. LUPE AND NICO. As you may know, Lupe and Nico are my dino-buddies who always come with me to my events, so of course, they had to be present in the book fair. You have no idea of how many people ask me if I was the one who crocheted them. I wish I could say YES! Lupe and Nico are always a big hit with the children, so if you have a character in your book that maybe you could bring along as a plushie or decoration, I think it would be very appreciated by the kids, plus they make your stands look cuter.
8. REVIEWS. This time I printed the reviews that Santiago's Dinosaurios has received from Kirkus and Booklist for people who might be interested in that information, such as teachers or librarians. I put them in an acrylic paper holder and displayed them on the table.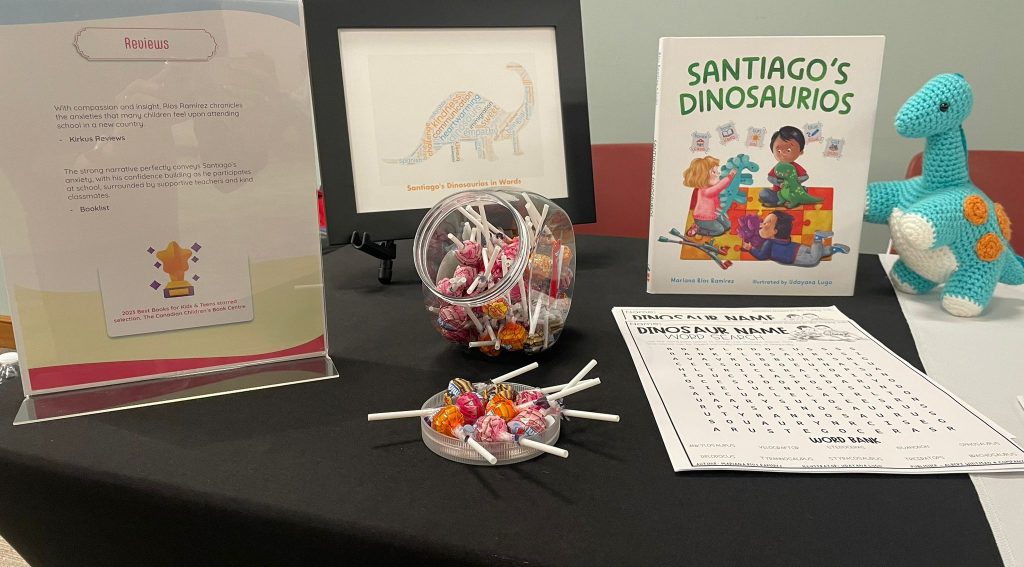 9. Santiago's Dinosaurios in Words – This was the first event in which I displayed this frame that I created to celebrate Santiago's Dinosaurios 1st anniversary last month. The dinosaur in the print is composed by different words which I took from the reviews that the book has received in Amazon, such as: heartwarming, bilingual, challenge, brave, hope, Spanish, etc. I thought it would be a nice decoration for the table and it really was. I noticed other writers brought letter boards with a quote from their books. I loved that idea, so I might adopt it in the future too.
10. Prices and payment methods – I don't have a picture to share, but on the other side of the acrylic, I had the price of the book along with the information to pay in cash or by using Zelle or Venmo. In my experience, most people use cash. So far not being able to charge a credit card hasn't been an issue for me. I noticed other writers were sharing their PayPal info as well, which I thought was a good idea and I'll definitely include that for next time.
11. Candies or goodies – Most of the writers on the fair had some sort of sweet treat to give away on their tables. I had candy for the children, but other writers had bowls with chocolates or cookies. I even get to enjoy those cookies and they were delicious.
12. Photos – It's very important that you don't forget to take pictures of your stand and of you in the event that you can later use in your social media or blogs.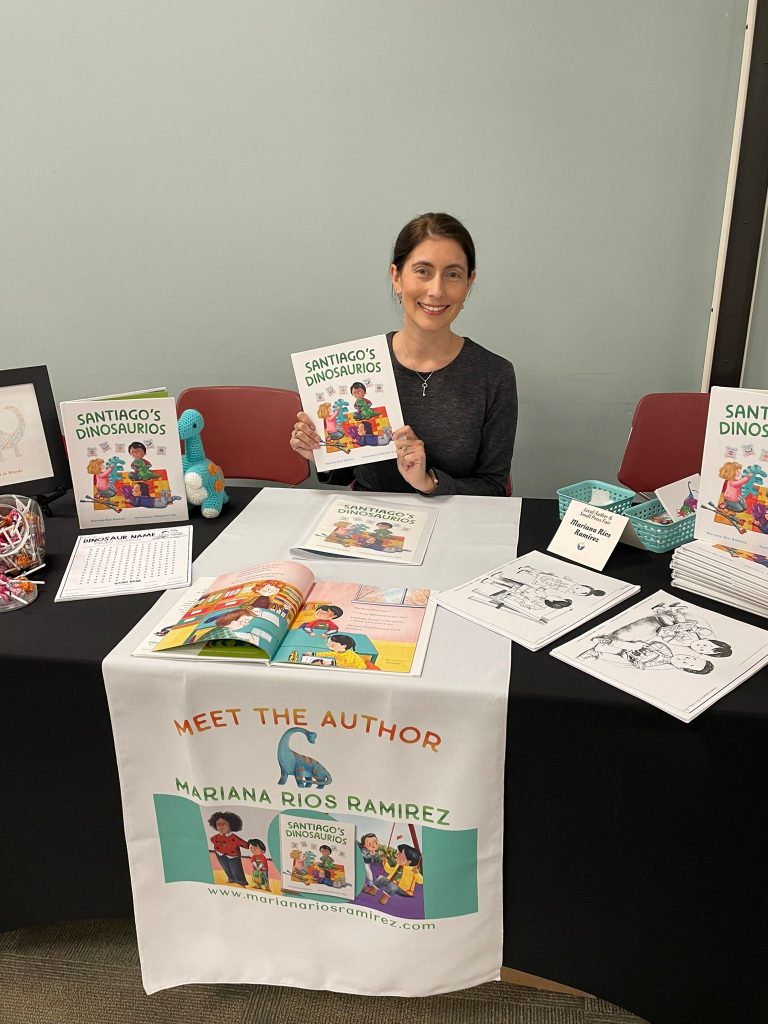 I hope you'll find this information useful in your own journey. If you have anything that you could add to this list that could be helpful when getting ready for these kinds of events, I'd love to read your recommendations. Thanks!
Thanks for reading!
M
Cover photo by Cottonbro Studio.