Today I'm thrilled to share this wonderful conversation I had with illustrator Udayana Lugo. As you may know, she is the talent behind the beautiful illustrations of Santiago's Dinosaurios. I reached out to her for this interview to celebrate the 1st anniversary of Santiago's release this week and she was happy to participate.
For those of you who may not know, even though Udayana illustrated the manuscript I wrote for Santiago's story, I wasn't able to contact her during the whole process of getting the book published. Why? The reason for that is editors value the input and ideas that illustrators bring to the book, so they prefer giving them freedom to create instead of getting a lot of direction from the writers. Although this was shocking to me at the beginning because I had no clue this is the way "things are usually done", I totally understand the reason behind that policy now. And let me tell you that I feel so lucky that Udayana and the design team at Albert Whitman were able to bring their own magic to the story, providing it with more depth and layers than I had envisioned, especially regarding diversity.
So, my relationship and now friendship with Udayana began some weeks before Santiago's publishing day on October 27th, 2022. I reached out to her and asked if she'd like to have a book birthday zoom event together to celebrate our book's release. I was thrilled when she accepted the invitation and we were able to have a cozy chat with our close friends and families. We had two presentations, one in English and one in Spanish, in which we talked a bit about the book, showed some videos of the art and had a toast. Since then, we have remained in touch and I'm glad that now we are friends.
Besides being the illustrator for Santiago's Dinosaurios, Udayana has participated in the creation of several beautiful books, including the following:
These books are amazing! Have you read them? I particularly enjoyed Jungle cat, because I love books with cats.
*****
Now, on to our interview:
M. Udayana, can you share when and how you realized you wanted to be an illustrator?
U. I realized very early in life that I loved drawing and painting. When I went to university, I chose a BA in Product Design because I thought it would allow me to draw for a living, which is partially true. I worked designing many different things, like furniture, jewelry, auto parts, brochures and packaging for many years. Fast forward to my late 30s, I had two children under 5, and lived in the UK. I had been a stay at home mom for some time, with no prospects of picking up my design career, so I decided to try something else. A few years previously a dear friend of mine had asked me to illustrate a story she wrote, so I signed up for a correspondence course in children's books illustration and started practicing at home.
M. That is such an interesting story. Now, can you share what do you love most about being a children's books illustrator?
U. I love using my imagination to give life to stories. I am also very passionate to represent people who we don't usually see being the lead characters in stories.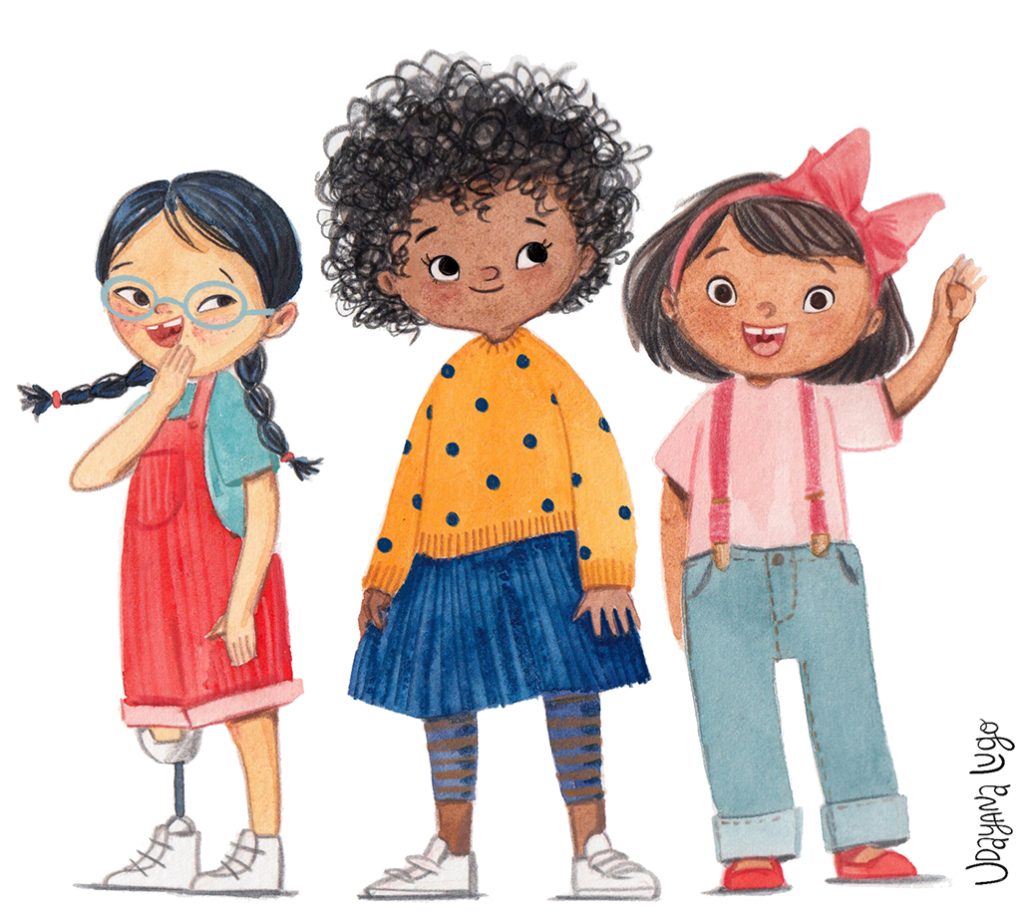 M. I love that, and I agree that it's so important that children can see themselves in the books they read. How did you find your own style? How would you describe it?
U. I think my style has changed in time based on what has interested me. At the beginning I was drawing like a designer, trying to keep everything with the correct proportions, and being very strict about perspective, and gravitating towards a more realistic style. The more I've done this, the less interested I've been in doing realistic pictures, and the more I've wanted to capture how children draw some things (although my previous training is very ingrained in me!). I honestly don't know how to describe it, I can only assure you that I try to have as much fun as possible, and hide details in the background for readers to find out.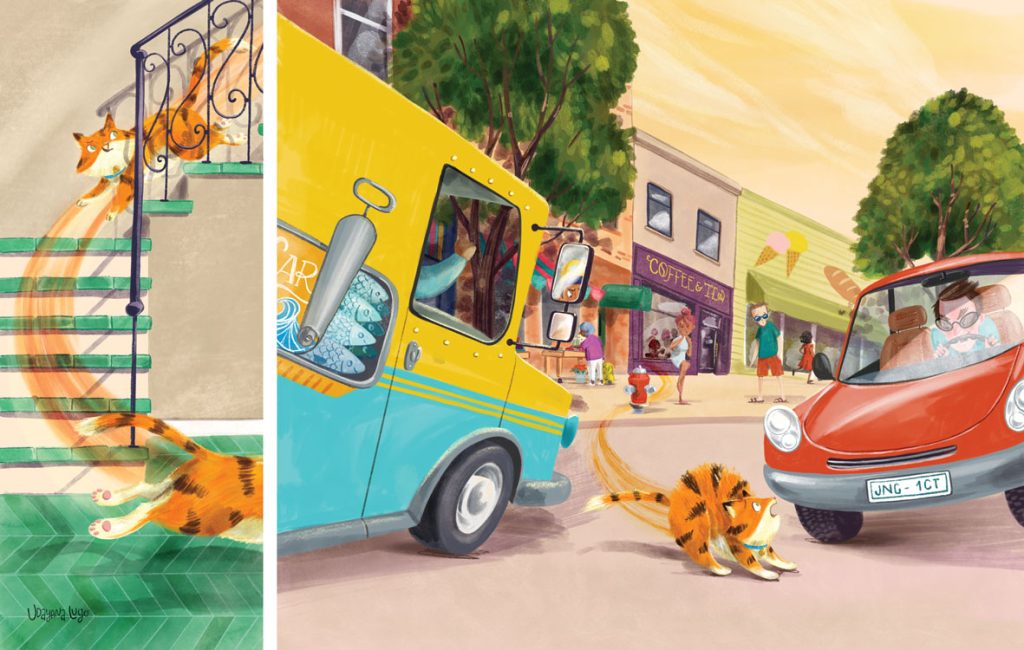 M. Having fun at your job is really a blessing. Can you tell us where do you get the inspiration for your characters' designs and the colors you use?
U. My characters come from my environment. I'm sometimes walking my dog, and I see a person and I think: "they would make an excellent character". Or I pick up my children from school and I see their friends, and I say to myself: "this would make a great Red Riding Hood". Other times I go through yearbooks or my own photos. For Santiago's Dinosaurios, I got the prompt that the main character was a Mexican boy, so I looked into my childhood photos and selected a friend of mine as the inspiration. Bright colors come to me very naturally, since I grew up in Mexico and you can see them all around you.
M. How lovely that you put details and experiences of your own life in your work, that makes it more personal. Can you share how did you get to participate in these projects? What made them appealing to you?
U. I had an agent that represented me, and I was periodically offered books to illustrate. When I was told this book was about a Mexican boy who had recently moved to the U.S., I knew I had to do it, being myself an immigrant. I thought it was a wonderful opportunity to give voice to someone who we rarely see as a main character. I also wanted to depict him and those glimpses of his family life as positive and happy.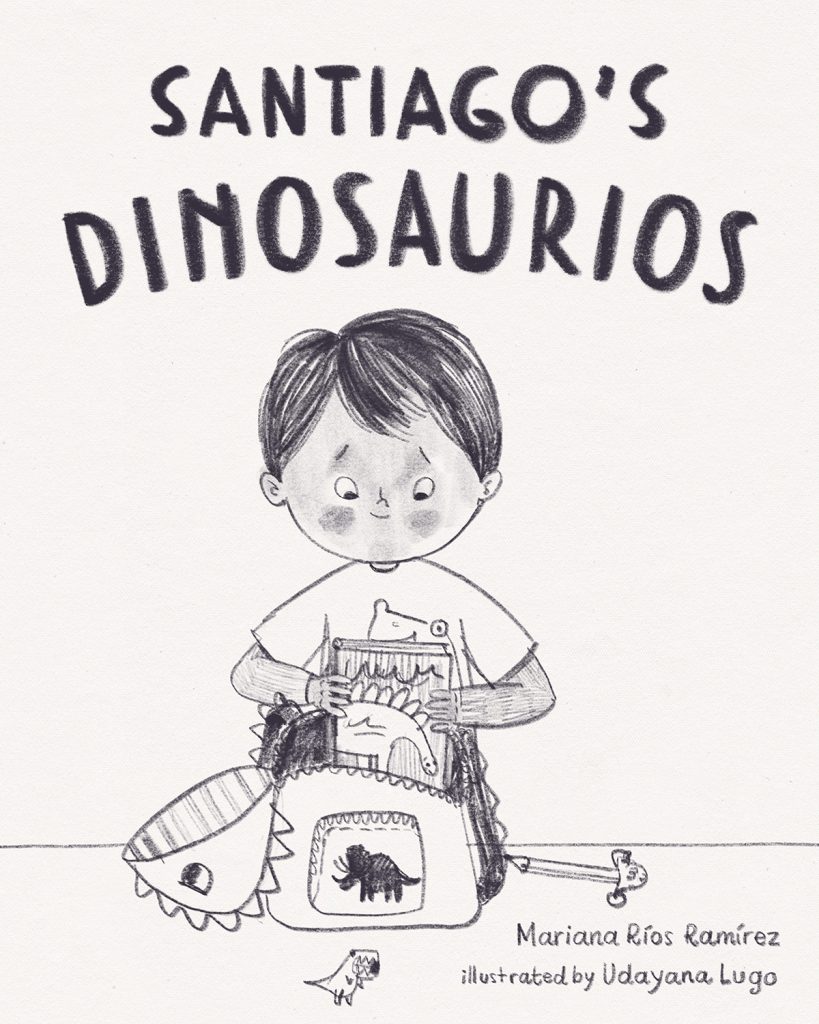 M. I consider myself very lucky that you brought Santiago's Story to life. Can you share a bit of what's the process of working on a book along the publisher and author?
U. It varies a bit, but in general I get a query with a little summary of the book and maybe details about the time frame and fee. If I'm interested, I will get the manuscript, and I can still say if I want to do it or not. Once I agree, there is a contract establishing the intermediate deadlines and a lot of directions for how the publisher wants me to start on the book (sometimes they don't give me any direction and just ask to "run with it"). Then come the thumbnail sketches, which are very small drawings of all the pages. They are small because what you want to do is getting the action right, and see how the images flow from page to page. These go back to the art director, and they come back with comments. It's good to get fresh eyes on the sketches because they can easily spot whatever is not working and correct it. Many times they don't need to see the correction and tell me to go to "roughs". Rough sketches are drawings made to the right size of the whole book. This is important because you can adjust proportions, add details and see that the text will fit into the page. The art director has to approve them before I go to color.
In this phase I do the actual illustrations as you will see them in the book. Sometimes I work traditionally on paper, and sometimes I do them digitally on my iPad. Once I send them in, I can still be asked to modify some colors. For example, for Santiago's Dinosaurios, I had made the classroom floors in beige, and they got changed to yellow. On another book I had a red-brick wall that I later changed to blue. After this, it's only waiting for me. I will get a box of books in the mail some months later, which is always very exciting!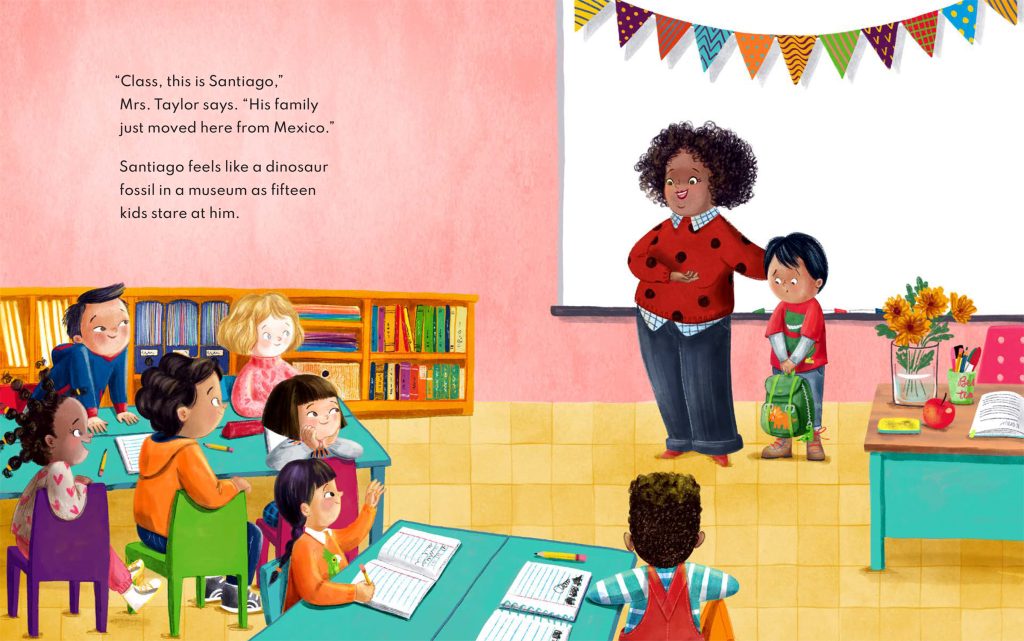 M. Now, a question that means a lot to me. What can you tell us about your experience on working in Santiago's Dinosaurios?
U. I loved the process, there was a lot of communication with the art director and I got feedback really quickly every time. That said, it was also a very short deadline, and that had me working throughout the Winter holidays. I coloured the pages in Procreate, so that meant I could take my iPad with me and work in any place. I remember that on New Year's Eve I was sitting on the living room with my family, waiting for the stroke of midnight while working on Santiago. I also had a family emergency right after I sent the final art, and my art director was extremely nice and understanding, for which I will be always grateful. It was a very sweet surprise and the beginning of a friendship when Mariana sent me a message to thank me for my work. It is always rewarding when people acknowledge your hard work.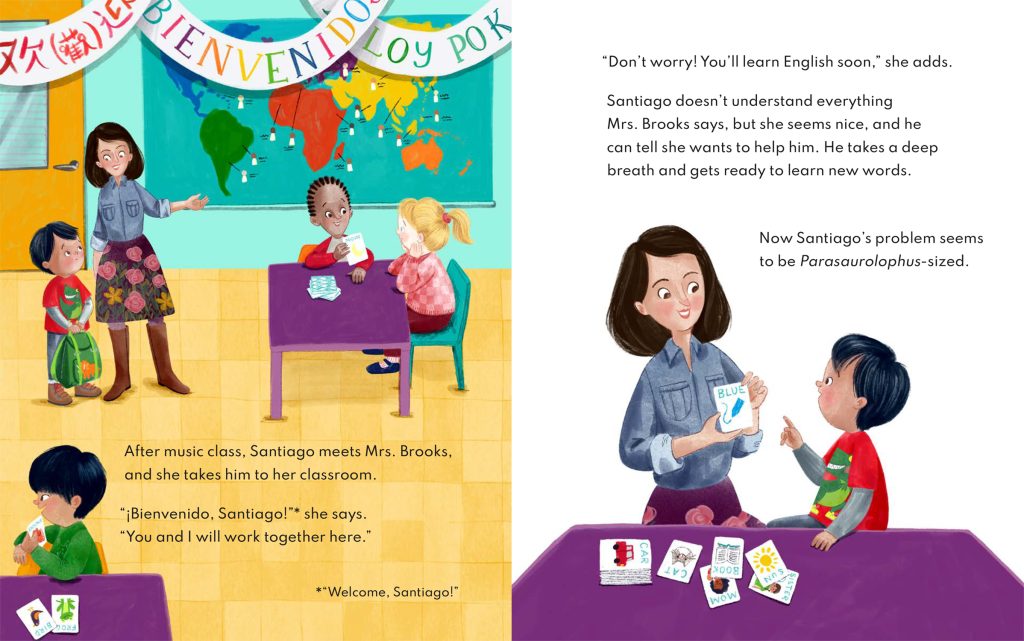 M. I loved your work, and for me it was very important that my editor shared with your my thoughts and feedback. Finally, do you have any new projects that you're currently working on that you can share about? What comes next for you?
U. Yes! I finished a book in the Spring about a community who comes together to fight a dragon. I'm currently working on two more books, that I can't talk about, but it's very exciting because they are my books number 19 and 20! I'll be finishing them in Spring 2024, and they'll be published either late 2024 or Spring 2025. I know, it's a slow process!
*****
Books 19 and 20! That's such an accomplishment. Congratulations!
Udayana, thanks so much for this wonderful conversation about your journey as an illustrator and your experience working on our lovely book. I've enjoyed getting to know more about you through this interview. Thank you for your time and congratulations on Santiago's 1st year anniversary! Cheers and wishing a lot of success to our book baby!
I also wish you all the best on your coming projects. Can't wait to hear more news about that.
UDAYANA'S BIO
Udayana is a (mostly) self-taught illustrator living on the traditional, ancestral and unceded land of the Musqueam and Squamish nations, also called Richmond, BC, Canada. She was born in Russia, but grew up in Mexico, this shaped her tastes, her imagination and her colour palette. Udayana studied product design, but she took a chance and switched gears to become a children's books illustrator, which suits much better her introverted personality. When she's not working, you'll find her walking her dog, baking, reading or chilling out with her family.
Website: https://www.udayana-lugo.com/
IG: udayanalugo
Thanks for reading,
M
Cover by Anna Shvets.