I'm so happy to welcome my talented friend and fellow Musa Judith Valdés B. to celebrate the recent release of her book La Azotea de Mi Abuela written by Grace Ann Díaz, illustrated by Judith, and published by Lil Libros on August 22, 2023. 🎉
Judith and I go way back. She was actually the one who interviewed me for my Book Birthday Interview on Las Musas Blog when Santiago's Dinosaurios released last October. So for me, it's very special that she's the first creator I'm hosting for an interview on my blog. It's so exciting!
About the book:
Authored by Grace Ann Díaz, La Azotea de mi Abuela is a beaming tale of the love and bond between a granddaughter and her abuela. Abuela's rooftop is their haven, a place to make life-long memories, and is endlessly filled with new discoveries… until it's time to head back home.This picture book is an ode to finding joy in little moments and the special bond between a young girl and her grandmother.
****
Now, on to our interview:
M. Judith, can you share when and why you realized you wanted to be an illustrator?
J. My journey into the world of illustration began in a serendipitous way. Like many children, I was always fond of creating images with colored pencils and letting my imagination run wild on paper. However, it was later in life, when I moved to the United States with my limited English, that I recognized the power of images to tell a story. In those early days, I discovered how images could transcend language barriers and convey messages universally. This realization ignited in me a passion for illustration, driving me to explore its diverse techniques and embrace the enchanting realm of picture books. I also looked for ways to call on the power of the images to celebrate and promote my culture and heritage. Through the infusion of colors, symbols, and themes, my illustrations became a bridge to connect cultures, as well as to foster understanding and appreciation for our differences.
M. "Bridge to connect cultures." I love that! How did you find your style? How would you describe it?
J. Finding my artistic style felt more like a natural evolution than a deliberate decision. The allure of colored pencils and textures always captivated me, and with the rise of digital techniques, I looked for ways to combine them. A feature of my illustration process is the incorporation of hand-created textures that I scan and integrate into my digital work. In this way, I try to pay homage to the tactile quality of traditional art.
M. That's so interesting, I'll have to look for those textures on your books' pages.
Can you share how did you get to participate in this project? What made it appealing to you?
J. La Azotea de Mi Abuela immediately resonated with me due to the countless hours that I spent as a child on my parents' azotea, gazing at the stars and observing the world below. Through this connection, I tried to infuse the illustrations with the genuine emotion and magic of those memorable moments. In a way, I sought to convey the sense of wonder and adventure that comes from viewing the world from a unique vantage point, much like the characters did in the book.
M. How lovely that you have such a personal connection to this story. How did you decide which style of characters to develop for the story and what color palette to use?
J. Developing a character style and selecting the right color palette for a story is a creative process that involves both exploration and collaboration. Consequently, I worked closely with the editor and art director from Lil Libros. Together, we delved into various options for the main characters, seeking a visual language that resonated with the story. This collaboration allowed us to capture the personalities of Abuela and niña. Similarly, the choice of color palette was a thoughtful process. We considered the story's themes, emotions, and intended impact on readers. Since the story takes place on the rooftop of Abuela's house, the palette needed to reflect the color of nature – of the sky, the Popocatepetl, and the gardens.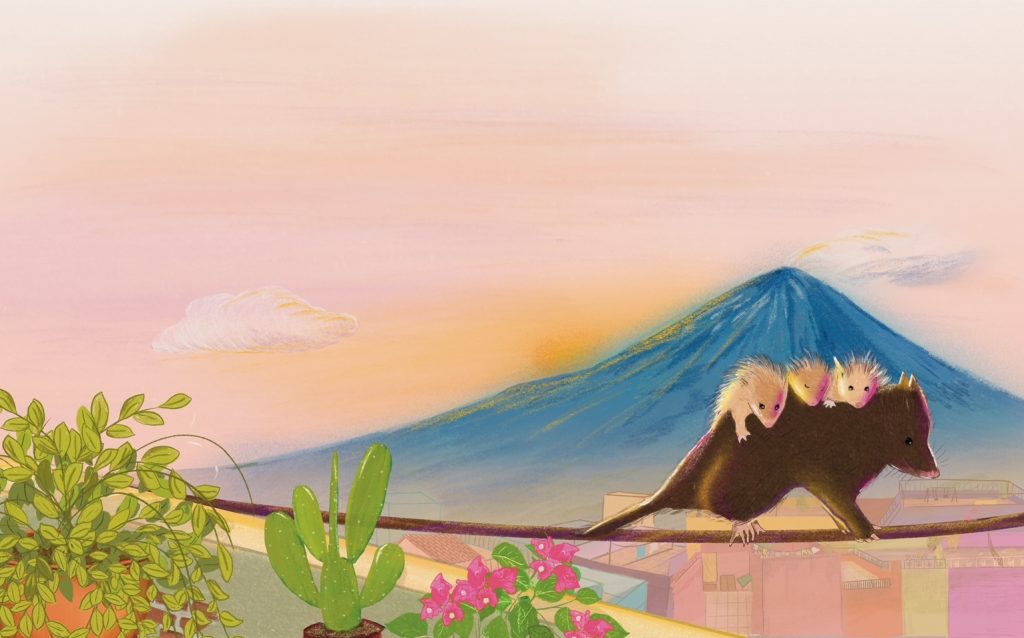 M. Beautiful art, amiga!
Can you share how was it like to work with the author and publisher on this book?
J. Working with the publisher on this book was an incredibly fulfilling experience. Collaborating with the Lil Libros team has been a privilege and a source of inspiration for me. The editors and art directors exhibited a genuine passion for their work, fostering an environment of open communication and creative collaboration. Their commitment to representing and celebrating Latino culture, evident through their 100% ownership and operation by Latino women, added a deeper layer of purpose to our collaboration. Unfortunately, during the process of working on the illustrations, I did not have the opportunity to connect with the author, Grace Ann Díaz. However, I received a sweet note from her during our joint work to promote the book. As an illustrator, you always want to ensure that the author is happy with the outcome of your work.
Amiga, thanks so much for taking the time to share about your journey as an illustrator, your process, and how this wonderful book came to be. I wish you all the best with La Azotea de mi Abuela and your soon to be released book An Ofrenda for Perro, which you wrote and illustrated. Congratulations! 🎉 It's coming to the shelves on September 5th, 2023. I can't wait!
****
JUDITH'S BIO
Judith Valdés B. is an American author and illustrator born and raised in a colorful Mexican town. Through her picture books, Judith celebrates multiculturalism, inspiring young readers to embrace the diversity in the world around them. Her enchanting stories and captivating illustrations transport children to imaginary worlds, helping to foster empathy, inclusivity, and
multi-cultural education. Her Kirkus stared reviewed debut picture book as an author, AN OFRENDA FOR PERRO, by Little Bee Books, releases in September 2023.

Website: https://judithvaldesb.com
Twitter: JudithValdesB
Instagram: JudithValdesB
Facebook: JudithValdesB
Thanks for reading.
M
Cover photo by Anna Tarazevich.