I'm thrilled to share this wonderful interview with multi-published picture book author Lynne Marie, who is my dear friend, my k-drama sister, and also a member of Kid's Book Crew like me.
Lynne Marie's new picture book, The Palace Rat, is being released by Yeehoo Press on September 5th, 2023. I had the opportunity of reading and advance reader copy (ARC) and I really enjoyed it. This is such a fun and cute story, and I'm sure it will be loved by children and grown ups alike.
About THE PALACE RAT:
Henri is a palace rat living as the pampered pet of King Louis the XVI! He's waited on paw and foot . . . but not everybody is happy about it.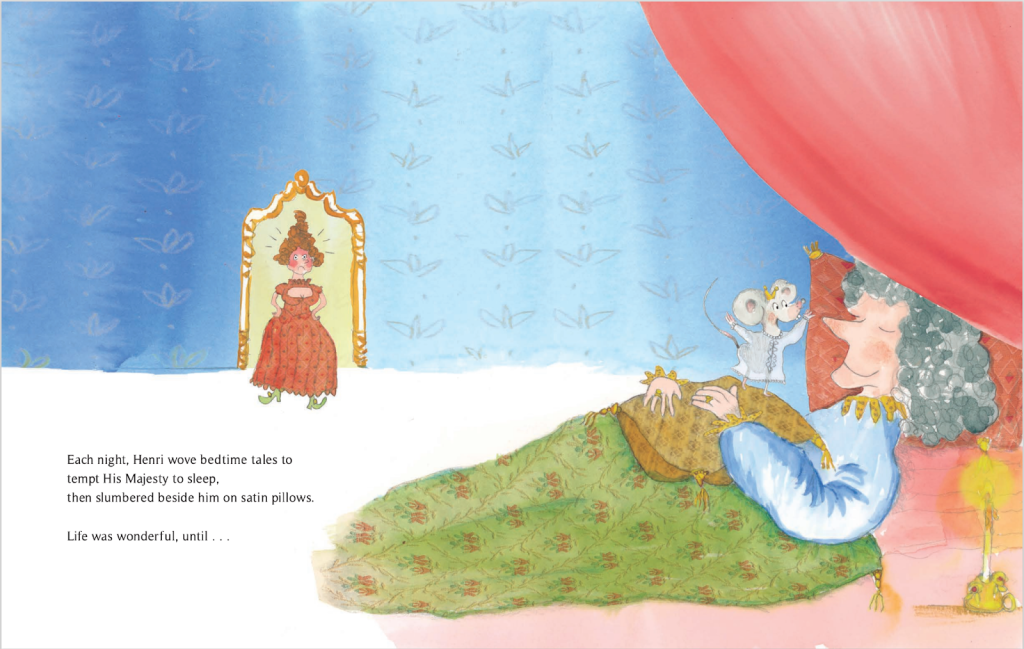 When a dastardly plan by the royal staff casts Henri out to the streets, he must find his own way safely home. Country mice take Henri in and kindly show him their ways of living. To survive, Henri will eat field strawberries, fashion new clothes out of rags to match the latest Parisian styles, and sleep on grass nests, dreaming of his return to the palace.
In no time, Henri will become a popular figure, spinning rich and colorful tales of palace life for growing audiences. Yet every great tale must have a happy ending . . . and when the time comes for Henri to determine how his own story will conclude, will he choose to stay with his new friends on the street or return to his regal life of comfort?
******
Now, on to our the interview:
M: Lynne Marie, can you share what inspired you to write this story?
L: In 1997, I spent three weeks with my family in France. While on an excursion with Trafalgar Tours, a rat ran across the courtyard of the Palace of Versailles! I wondered if that rat was related to one of the rats of the French Revolution – a historical period that intrigues me. Then, I wondered if that rat might have been the pampered pet of King Louis. And if it was, who would find that upsetting? The Queen? The Cook? The Tailor? And everything just grew from there and The Palace Rat was born.
M: That's wonderful! I love how one moment inspired a whole story!
How would you describe Henri, and why did you create him that way?
L: Pampered, and then humble. I wanted the contrast of being a spoiled royal and then just someone who appreciates life's true riches (friends, simple pleasures and storytelling).
M: As someone who have read this story, I definitely think Henri's transformation comes through in the pages. Next, can you share what was the most challenging scene to write in the story?
L: The most challenging scene to figure out / write was any scene with the letters. I hoped that I could convey that the letters were being delivered (and how), and that they were being intercepted by the jealous co-conspirators and were not being seen by the king – who surely would have replied.
But even more challenging, I think, was that I wrote this story in 1997 and it was originally about 1200 words. In those days, picture story books, folktales and fairy tales were longer. Over the years I had to whittle it down as word counts lowered considerably for picture books.
M: Wow! So you really never gave up on this story! I'm so glad it's finally coming to the shelves.
Can you please tell us a bit of its path to publication?
L: As I often say when I am speaking to writers, the path to publication is a long and winding road. This story happened to be written at the beginning of my journey, and its now being published 26 years later! It was one that I wrote, and then put aside as I went back to school (night college) to learn the craft of writing. I took any literature or children's literature course that was offered, including Folktales and Fairytales, Children's Literature, Writing for Children and more!
So there are over 29 versions of this story from start to finish!
M: As someone who has always recommended to read mentor texts in order to improve our writing, can you tell us how you used these texts for this particular story?
L: This is a great question as you know how much I love Mentor Texts! YES! I did. My goal for Mentor Texts when I was writing this book was 50 – 100 related texts. I would use a variety of resources – new (and used when unavailable) books, library books, friend's books, etc. Times were different then – kindle was released 10 years later! So I chose any picture books I could find set in France, any that featured a rat or mouse main character, any that offered versions of The Prince and the Pauper and City Mouse / Country Mouse and any that embraced telling tales. So I did pour over quite a large amount of books!
I used them to make certain my story was new and different and that it stood up against what was already out there.
M. Thanks for reminding us the importance of mentor texts. Now, can you tell us what message you're hoping your readers will take away from The Palace Rat?
L: I hope that my readers will bloom where they are planted (like Henri) as well as learn to appreciate the little things in life – the true riches and last but not least keep storytelling alive and well!
M: Finally, Lynne Marie, can you share what comes next for you as an author?
L: I have a number of projects in the pipeline – After this, The Star in the Christmas Play — one of my all time favorite stories, will be released in paperback (October 3, 2023). Then, in or about January, American Pie (with art by Dea Lenihan) will be released from Mac and Cheese Press, as will Chicken Little's Weather Worries (with art by Wendy Fedan). In the Fall, Broommates, co-written with my friend Brenda Reeves Sturgis (with art by Nico Ecenarro) will be released. So it will be a fun year, packed with school visits and presentations and travel!
That's amazing! Dear friend, thanks so much for your time and for sharing about your book and journey with us. I wish you the best with the release and many success to The Palace Rat and your future projects.
******
LYNNE MARIE'S BIO
Lynne Marie is the multi-published picture book author of several books including Moldilocks and the Three Scares (art by David Lorenzo), The Star in the Christmas Play (art by Lorna Hussey), The Three Little Pigs and the Rocket Project (art by Wendy Fedan) and more coming soon! She wears many hats – the director of RateYourStory.org, a co-Host at SeasonsofKidlit.com, a Columnist at Children's Book Insider, an Agent Mentee at the Seymour Agency, and more – but none of them a crown! In her spare time, she collects folktales, and when she can, mashes them with science and/or history!
AUTHOR WEBSITE: http://www.LiterallyLynneMarie.com
LYNNE MARIE ON FACEBOOK
AUTHOR FACEBOOK PAGE: Children's Author Lynne Marie
LYNNE MARIE ON TWITTER
ON INSTAGRAM
ON THREADS
ON GOODREADS
Thanks for reading!
M
Cover photo by Joan Costa.