Last week I was invited to a Literacy Night for ESOL students and their families, mostly hispanics, at Palmetto Elementary in Williamston, SC. This time the gathering took place in the library and then we moved to the cafeteria for a book signing. I love how each presentation I've had has been different and unique in its own way.
For the first part of my presentation I introduced myself and I talked with the children about how I became a writer and the process to write my stories. I also told them why I added the dinosaurs in the book (to make it more unique so it could stand out among other 1st of Day School books) and why it was important for me that Santiago spoke just Spanish to make the story more realistic.
I want to mention that this was the second event in which I was able to address the audience in Spanish (my first language), since for the attending families it was their first language too. Actually, for this reason, in this visit I got to read the book in English and Spanish. Contrary to my previous event, in which the book was also read in Spanish by a translator, this time I was the one to do it in both languages. I'd read a page of the book as it's written and then I'd translate that same page to Spanish while the students were able to follow the book on the screen. It was very special to read aloud Santiago's story in my language. I could see that the children enjoyed that too. 🦕 🦖
After my presentation, a librarian from the Anderson County Library System read "Dreamers" (Soñadores), a bilingual book written and illustrated by Yuyi Morales. Then she provided valuable information to the families regarding the library, its services, and the parents were able to sign up for library cards too.
Afterwards, we moved to the cafeteria, where the children received snacks and a bag which they each filled with several books of their choice that were gifted to them, some in Spanish. In addition to this, there was also a table with copies from Santiago's Dinosaurios that the school bought for the ESOL students as gifts.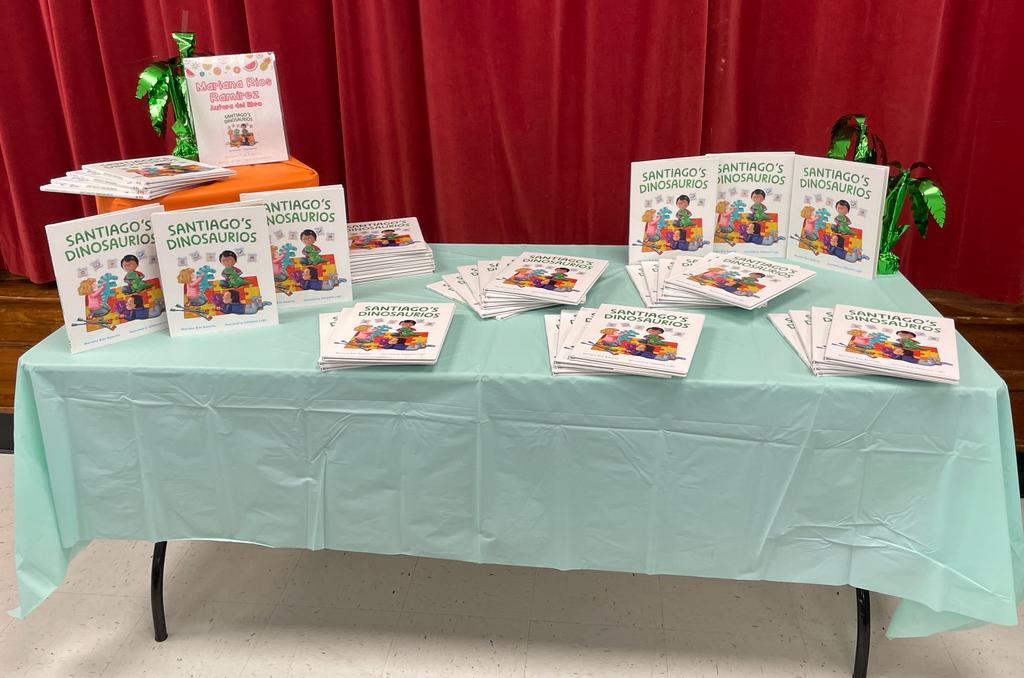 I feel so lucky and thankful for the opportunity of having these wonderful events to celebrate my book and to share it's message directly with children who have experienced or are going through Santiago's situation. It really has meant the world to me. Thanks for reading!
Cover photo by Engin Akyurt.