Some days ago I had the chance of reading Santiago's story to 3 and 4 year old children in First Prep Day School. It was a delightful experience, especially because my daughter attended that preschool. It was really nice to see the teachers and to visit the building once more.
However, I must confess that at the beginning I wasn't so sure on how to approach this presentation, since it was going to be my first time with this cute audience. Thankfully everything went well and it was a wonderful experience for me and the kids.
First, I told them a little bit about me. I also mentioned my own daughter once was a student of their teacher, Ms. Colleen, and they loved that. Then, I shared a bit about what writers and illustrators do and we jumped into the book.
In this case, I read from the book and I didn't use slides, that was not needed since they are used to being read this way and they just looked at the pictures since they can't read. You can take a look at a short video posted on my Facebook page here.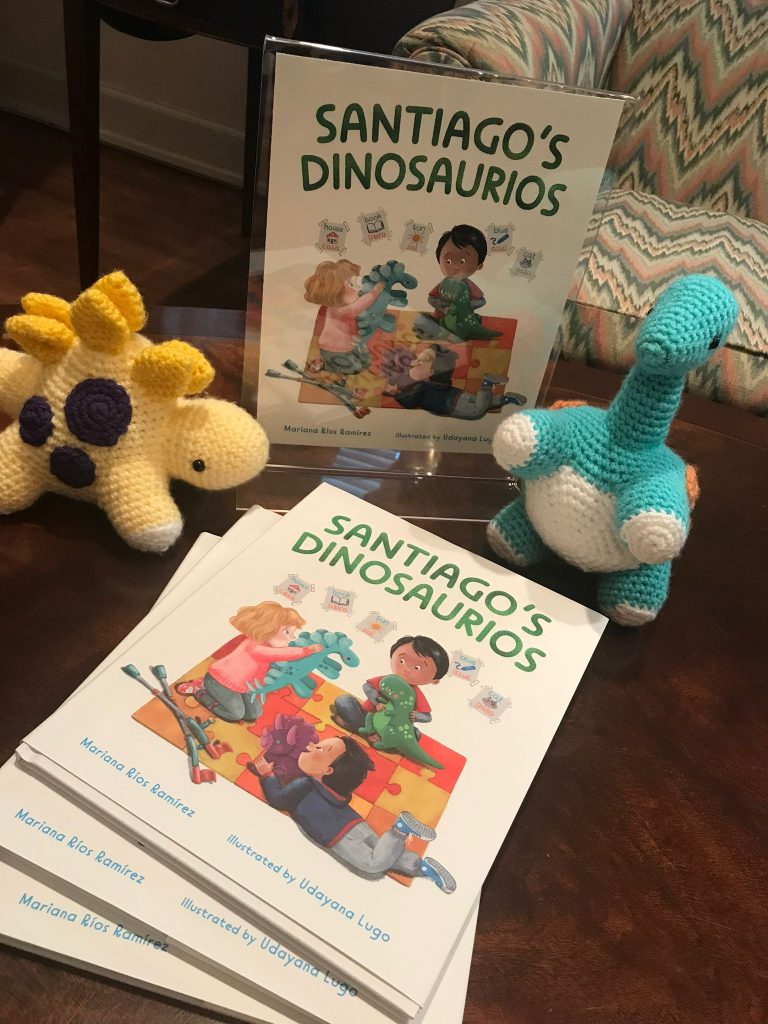 As I got ready for my presentation, some fellow writers gave me the following advice which I want to share with you in case you'll have your own session soon:
Give them time to settle in before you start reading the story.
If you make a mistake while reading, just roll with it.
Use a slower rate of speech, enunciate and make pauses.
You don't have to read the pages word by word, it's okay to just tell them what is happening, especially if there are many words on the page.
Make the reading interesting by asking them questions about what they think is going to happen or about what is going on on the pages.
Keep reading no matter what they do (walking away, not paying attention, rolling around, etc.) – let their teachers handle that behavior.
Don't forget to pause and show the pictures.
Be very expressive, especially when you ROAR!
Ask them to ROAR along! – they loved this and they were awesome at it! 🦖
Enjoy every minute, it's magical seeing their reactions. – it really was a special moment!
I hope you find these suggestions useful. They were really valuable for me and worked like a charm. I've found that each school I've visited turns out to be a very different experience. The age of the kids definitely has a lot to do with it from the topics discussed, to the duration of the session and the reactions you get from the children.
I've been so lucky to have such wonderful audiences. I'm very grateful for this amazing journey I've had. 🦕
Thanks for reading!
Cover photo by Ksenia Chernaya.