As I had shared in my last post, in the last days of May I had the opportunity of visiting Ms. Purdy's first grade classroom virtually. The school belongs to the Newburgh Enlarged City School District, and it's located about an hour and a half north of New York City.
I met Ms. Purdy through Instagram last summer (wow!). A writer friend of mine (children's book author Ana Siqueira) had connected with her there and shared Ms. Purdy's post about getting authors interested in virtually visiting her classroom during the school year. You see, Ms. Purdy has "An Author a Week" project, in which she invites authors and illustrators to read their books to her students and to talk about their experiences in the publishing world. I absolutely loved the idea, and thought this was such a noble mission so, of course, I wanted to be part of this endeavor and said YES! even when my book hadn't come out then. And just like that, I became Ms. Purdy's week #36 #anauthoraweek guest.
Mrs. Purdy's class was my first ever virtual author's visit, and although I had talked to children in my in-person visits, this was quite a different experience. It's so amazing that I was able to reach students in another state while sitting in my dining room!
In this case, I decided not to use my power point presentation so that the students could see me and we could interact more. However, I made sure to cover the same points I usually talk about and of course, I introduced Nico and Lupe.
For the story time, I read the story aloud from an actual physical book this time, so I was holding it to the camera in order for the students to see the illustrations and follow along. I thought doing this would make the moment more personal with the children, than just projecting the e-book on the screen. However, I wonder how well they were able to see the images on the screen, so I might try doing it differently next time.
Something that worked well is that I used one of the dinosaur post cards I usually send with my giveaway books to show the kids the dinosaur changes as the story progressed. I think that made it clearer for them to understand how Santiago's problem was getting smaller and less scary as he experienced the kindness of his classmates and teachers. It was convenient that I could show the postcard to the kids whenever a new dinosaur was introduced.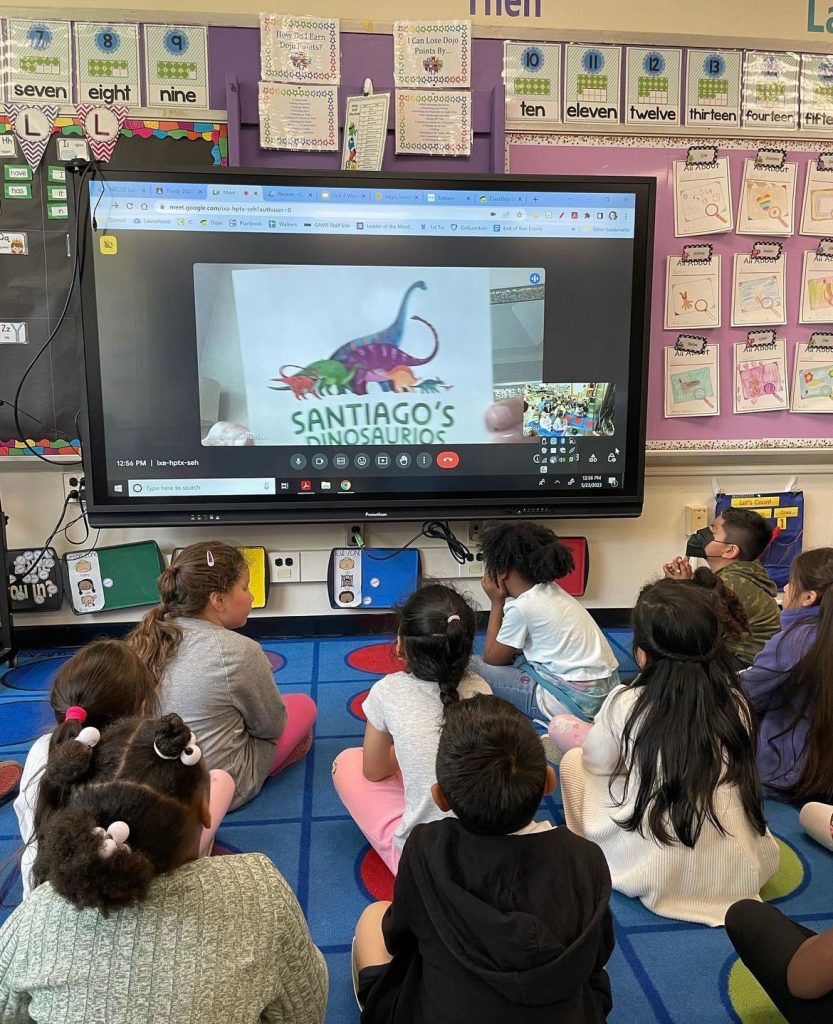 After reading the book, there was time for some questions. Overall the experience was very positive and rewarding. There were some wifi issues, but I think that it turned out in the end. I'm very thankful that Ms. Purdy shared some pics from that day with me and I am so glad that I was invited to take part in such a wonderful project.
So if you are an author or illustrator and you would like to take part on "An Author a Week" , please contact Ms. Purdy. She's always on the look out for new books and authors to share with her lucky first graders, and I'm sure she'll love to hear from you.
As always, thanks for reading!
Cover photo by Magda Ehlers.