I'm thrilled to welcome author Emma Pearl to my blog to talk about her beautiful picture book Saving the Sun, illustrated by Sara Ugolotti and published by Page Street Kids. The book will be released on September 19th, 2023 and I can't wait to see it on the shelves. 🎉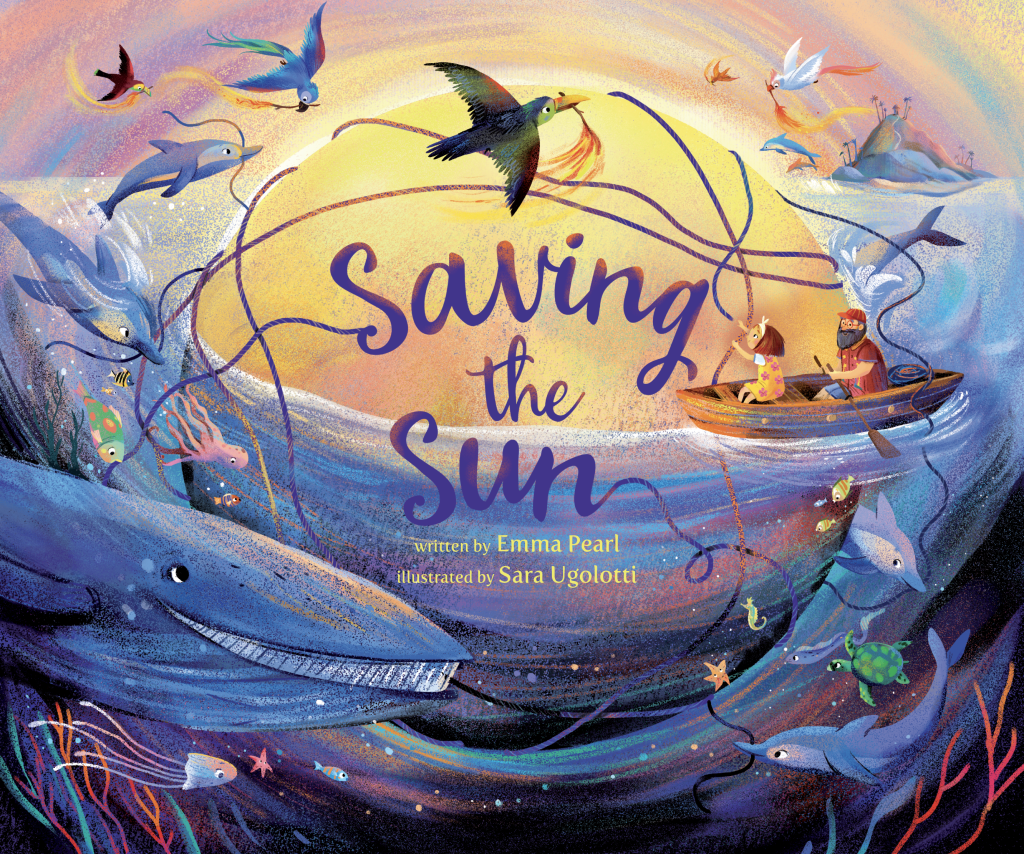 Emma and I are team members in the promo group Kids Book Crew, along other amazing authors and illustrators with books coming out in 2023-2025, so having her here to share about her new book is really special and I'm so grateful for this chance.
I have to mention that this book is not Emma's debut. Her picture book Mending the Moon, also illustrated by Sara Ugolotti and published by Page Street Kids released on November 1st, 2022 AND it's gorgeous! I totally recommend you check it out.
About Saving the Sun:
After an especially sweltering day, the ocean sparkles and twinkles so invitingly that instead of slipping beneath the horizon, the sun plunges into the ocean itself. When the sun sinks and loses its fire, Luna and Poppa's yearly vacation on Summer Island suddenly goes dark. Luna knows the sun needs their help―the sky looks all wrong, and it's neither day nor night! But it's a big job to do all on their own. To bring back daylight, they must think of creative solutions, seeking help from the local dolphins, monkeys, birds, and more. With the power of teamwork and imagination, can they find a way to return the sun to its rightful place, and set it ablaze once more? This imaginative tale will enchant readers as Luna, Poppa, and their new friends of the sea, beach, and air rise to the challenge of fixing the sky once more and―literally―save the day.
*****
Now on to our interview.
M. Emma, was it easy or hard for you to write a book with the same characters and feeling as Mending the Moon?
E. I actually wrote the first drafts of both at the same time (a long time ago!), so no, it wasn't hard to be consistent. I wrote four Luna and Poppa stories over about a week so I was completely immersed in the little magical world I had created. Six years later and Luna's world is still very real to me. The final version of the sun story is very different to the first draft (it started out in a city rather than on a tropical island), but the characters and ambience are completely true to the original.
M. Did you know Saving the Sun was coming after your debut released?
E. I signed the contract for Saving the Sun over a year before Mending the Moon was released so yes, I did know. It was wonderful to know that Luna and Poppa would continue their adventures. I've actually written five stories featuring these characters and have another one brewing in my head, but I don't think any more will be published, sadly, as Page Street Kids are no longer acquiring picture books. I'm thinking about posting one of the extra stories on my website though… stay tuned!
M. Oh no! I'll definitely be on the look out for more stories about Luna and Poppa! Please, keep us posted!
Emma, can you share how was the process of working with your editor? Was it the same as your debut?
E. Yes, it was essentially the same, although Saving the Sun took longer and required more drafts and revision. Kayla Tostevin was a joy to work with and I'm so grateful to her for taking a chance on me with both stories. She patiently coaxed the best versions out of me and it was her wisdom that brought out the 'folktale' elements, which to my mind make the stories so special.
M. And how about the illustrator? How was the process of working with the same one as your debut?
E. The first time round I was very nervous about the illustrations. Although I had some input into choosing the illustrator, handing your story over to someone else to bring to life is scary. But I needn't have worried – Sara's illustrations are incredible! She captured the essence of Luna and Poppa and their world in a way that I could never even have imagined. It was so exciting receiving the sketches, the cover, and then the final artwork. With Saving the Sun I was a lot more relaxed as I trusted Sara's interpretation and execution completely. She didn't disappoint, and although I didn't for a moment believe it was possible, I think I'm maybe even a little bit more in love with the second book than the first!
M. Can you share how you got your book from idea to publisher?
E. I first wrote the Luna and Poppa stories in 2017 – it was literally a thunderbolt of inspiration and the four stories were written within a week. I loved them straight away but I never really thought anything would come of them. It was very early in my writing journey and honestly I didn't know anything about crafting a picture book. But I studied and learned, and continued to work on them over the next couple of years. And in October 2020 I was incredibly lucky to receive a like from Kayla on my pitch at the online event #PBPitch. She was positive about the manuscript I sent her but it still needed some work, so we did a few rounds of revisions together and I signed a contract just before Christmas. This was before I had signed with an agent, so I consider myself extremely fortunate. Just a case of serendipity and good timing!
M. I also sold my debut without an agent, so I know what you mean.
Lastly, Emma why do you think this book book would be appealing to kids and teachers?
E. I think the illustrations are so gorgeous and appealing that kids and adults alike will be drawn to it, and I hope that kids will enjoy the story because it's an exciting and magical adventure! There are multiple layers to the narrative, which hopefully makes it appealing for teachers and parents too. The relationship between Luna and Poppa is special, and I know that lots of grandparents, in particular, have enjoyed reading Mending the Moon with their grandchildren. Themes of teamwork, compassion, perseverance and respect for nature make a good starting point for discussion. There's even a bit of science in there if you want to take it further. For example, the relationship between oxygen and fire. And the way the birds spread the fire is taken from nature too – inspired by Australian birds of prey. I'm hopeful that it's a satisfying and enjoyable read on many levels – it's certainly a visual feast!
Emma thanks so much for your time and for sharing about your book. I wish you the best with Saving the Sun. Enjoy your book birthday and I can't wait to follow your journey in the coming months. Congratulations!
****
EMMA'S BIO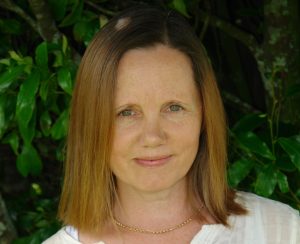 Emma's debut picture book Mending the Moon, illustrated by Sara Ugolotti, was published by Page Street Kids in 2022. Saving the Sun is her second book. Emma lives in New Zealand and writes fiction for young people of all ages from picture books to young adults. She is represented by Sera Rivers at Speilburg Literary.
Website: emmapearlauthor.com
Twitter: @emmspearl
Instagram: @emmspearl
Linktree: https://linktr.ee/emmspearl
Thanks for reading!
M
Cover photo by Sebastian Voortman.